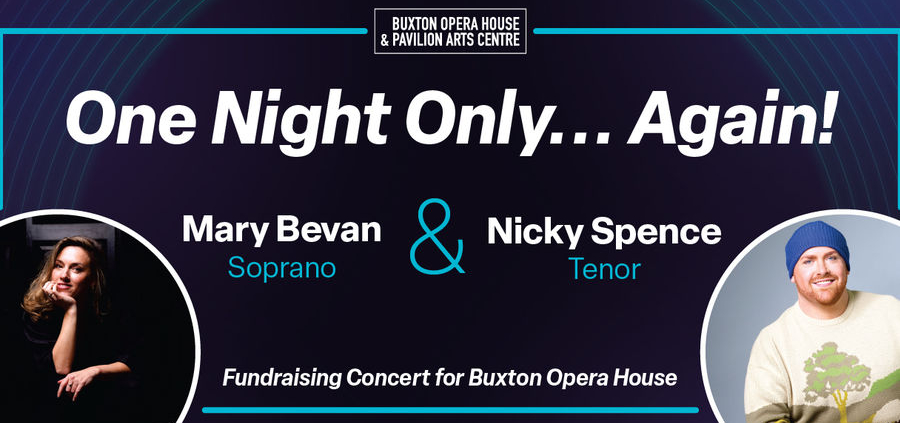 24.08.23 | One Night Only…Again! at Buxton Opera House
One Night Only…Again!
Buxton Opera House, Sat 9 Sep 2023, 7:30pm
The stage is set for an enchanting night of music and performance as Buxton Opera House presents "One Night Only…Again!" This eagerly anticipated event will feature the return of renowned soprano Mary Bevan and tenor Nicky Spence, joined by the Northern Chamber Orchestra, Kinder Chorus, and conducted by John Andrews.
Prepare to be transported into a world of musical magic, as the evening promises a diverse array of classics from the opera and musical theatre genres. The concert, which serves as a fundraising endeavour, will not only captivate the audience's hearts but also contribute to vital accessibility provisions at the Buxton Opera House, ensuring that the joys of the performing arts are accessible to all.
A Night of Unforgettable Performances
Mary Bevan, a name synonymous with excellence in baroque, classical, and contemporary music, will be taking the stage alongside tenor sensation Nicky Spence. Their previous collaboration left audiences in awe, and this year's performance is expected to exceed all expectations. Bevan's reputation as an international star is well-deserved, having graced prestigious stages worldwide with her captivating voice. Her recent appearance in Alcina at the Royal Opera House was met with resounding acclaim.
Nicky Spence, recipient of the esteemed "Personality of the Year" award by BBC Music Magazine in 2022, brings his unparalleled singing actor abilities to the forefront. With an OBE for Services to Music adorning his achievements, Spence's honesty and depth in musicianship have elevated him to the zenith of the music profession. His recent roles in productions like Jenufa for the Royal Opera, The Valkyrie for English National Opera, and Káta Kabanová at Glyndebourne Festival have solidified his status as a true musical virtuoso.
Symphonic Harmony by The Northern Chamber Orchestra
Adding another layer of brilliance to the night, the Northern Chamber Orchestra, under the expert baton of conductor John Andrews, will grace the stage. Known for their masterful interpretations and synergy, the orchestra promises to enrich each performance with a symphonic tapestry that transcends the ordinary.
A Harmony of Voices: The Kinder Chorus
This year's event becomes even more special with the inclusion of the Kinder Chorus, whose young voices will intertwine with the seasoned brilliance of Bevan, Spence, and the Northern Chamber Orchestra. This unique blend of talents ensures that the night will be etched in memory as a truly extraordinary musical experience.
Supporting Accessible Arts
Notably, each ticket sold for "One Night Only…Again!" contributes directly to enhancing accessibility provisions at the Buxton Opera House. By attending this remarkable event, patrons are not only treating themselves to an evening of world-class music but also playing a crucial role in ensuring that the beauty of the performing arts can be enjoyed by all members of the community.
Prepare to be swept off your feet by a night of operatic grandeur and musical theatre splendour. The Northern Chamber Orchestra invites you to join them on Saturday September 9th, 2023, at 7:30pm at the Buxton Opera House for an unforgettable experience. "One Night Only…Again!" is a testament to the power of music, collaboration, and shared passion, and it promises to leave an indelible mark on the hearts of all who attend.
Book your tickets now: https://buxtonoperahouse.org.uk/event/one-night-only-again
https://www.ncorch.co.uk/wp-content/uploads/2023/02/One-Night-Only-Buxton.jpg
430
900
music@dMin
https://www.ncorch.co.uk/wp-content/uploads/2021/02/norther-chamber-orchestra-logo.png
music@dMin
2023-08-24 14:52:44
2023-08-24 14:52:44
24.08.23 | One Night Only…Again! at Buxton Opera House