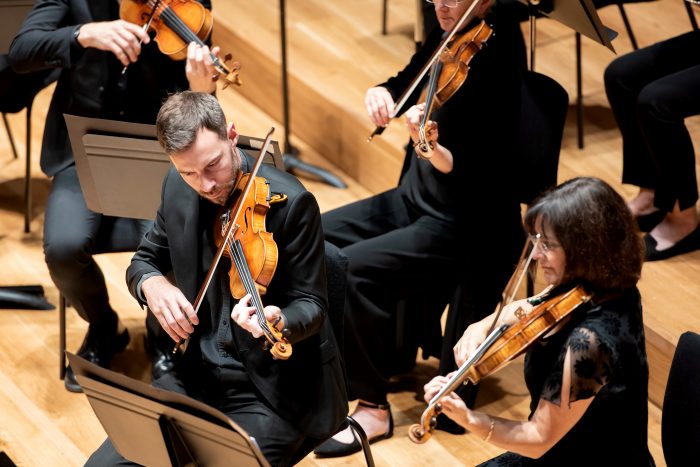 We are currently offering opportunities to sponsor an NCO player's chair for a season.
This is an opportunity for you to support the NCO financially whilst also associating yourself with your chosen player. Your support will help us to continue to develop artistically and ensure that we are able to retain our world class musicians.
Player's 'Chair' Sponsorship benefits are:
Sponsor acknowledgement inside the programmes alongside the name of the sponsored NCO player.
Two complimentary tickets and programmes to two NCO Macclesfield concerts of the sponsor's choice, along with the opportunity to enjoy a post-concert drink with members of the NCO.
---
To find out more about sponsoring an NCO player's 'chair', contact NCO's General Manager, Charlie Rowley on Tel: 0161 247 2220 or email: charlie@ncorch.co.uk
---
Available Chairs
Violins
David Routledge
Paula Smart

Viola
Mike Dale

Oboe
Jane Evans

Clarinet
Elizabeth Jordan

Bassoon
Llinos Owen

Horns
Naomi Atherton
Jenny Cox

Timpani
John Melbourne

Harpischord/keyboard
Bernard Robertson
---
Current Chair Sponsors
Violins
Nicholas Ward
Supported by Ken & Pam McKinlay

Simon Gilks
Supported by Anne Thompson

Louise Latham
Supported by Eleanor Lewington

Rebecca Thompson
Supported by Valerie Elliott

Violas
Richard Muncey
Supported by Martin and Angela Losse

Cello
Barbara Grunthal
Supported by Peter Raynes

Bass
James Manson
Supported by Ken & Pam McKinlay

Flutes
Conrad Marshall
Supported by Dieter Senn

Nichola Hunter
Supported by Jane & Wyn Davies

Oboes
Kenny Sturgeon
Supported by Caroline Brown

Clarinet
Daniel Bayley
Supported anonymously

Bassoon
Rachel Whibley
Supported by John Whibley Holidays

Trumpet
Tracey Redfern
Supported by John Bush